Institute of Law fundraisers: Café Débats
Now – Free entry but if you feel like donating something we won't say no!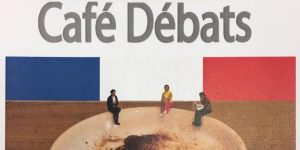 Une fondation de l'Institute of Law: pour célébrer la diversité de nos étudiants, nous ouvrons un club de discussion en français. Idéal pour ceux qui souhaitent améliorer leurs compétences en conversation française, ou pour les Français qui souhaitent avoir une discussion dans leur langue et rencontrer d'autres francophones. Nos étudiants en droit français participeront, ce qui leur permettra de donner à l'événement ce «goût français» très nécessaire.
Dates & Sujets:

7 Fevrier 2019: Le féminisme, est-ce encore nécessaire?
14 Mars 2019: La liberté d'expression à-t-elle encore sa place dans le monde?

 

Code vestimentaire: chic décontracté

Admission par ticket, réservez votre place.

---

An Institute of Law fundraiser: to celebrate our students' diversity, we are opening a debate club, in French. Ideal for those who wish to improve their French conversational skills, or for French nationals wishing to have a natter in their language and meet like minded people. Our French law students will be participating, ensuring to give the event this much needed 'French flavour'.

Dates & Topics:


7th February 2019: Feminism: is it still necessary?
14th March 2019: Does "freedom of expression" still have a place in the world?
Dress code: smart casual
Spaces are limited, so please get your ticket as soon as possible