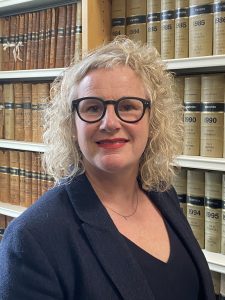 Dr. Sasha Holden has been appointed as Associate Dean at The Institute of Law, the leading offshore centre for legal research and learning.
Born in New Zealand, Dr Holden holds LLB and BA degrees from Otago University, a first-class master's degree in international human rights law from the University of Oxford, and a PhD in law from King's College London. She is a qualified barrister and solicitor in New Zealand, and a qualified solicitor in England and Wales, and brings ten years' practising experience to her role.
Dr. Holden has taught in New Zealand, England and Jersey and has designed and delivered courses on a variety of subjects, including human-rights law, public law, jurisprudence and the legal system. She is a well-respected socio-legal researcher in the field of human rights law, in particular on the rights of women, children and refugees, and was recently commissioned by the British Red Cross to produce a report on the human cost of cuts to legal aid for refugee family reunion. Her work has also informed a review of legal aid by the House of Commons Justice Select Committee.
Professor Janine Griffiths-Baker, Chief Executive of the Institute of Law Jersey said, "We are delighted that Sasha is joining the team at the Institute of Law. She brings a wealth of experience as an academic leader and scholar from her roles in New Zealand and London. Her passion for teaching, research and the student experience will bring huge benefit to all our students."
Dr. Holden said of her appointment, "This is an exciting time to be joining the Institute of Law. I am looking forward to working with colleagues and partners to provide an outstanding experience for all students and continuing to build on the proud history of educating lawyers in Jersey."